VideoGuide
A VideoGuide takes you on a virtual as well as a real journey, on an exploration tour through your special place, your museum or your exhibition, where the boundaries between film and reality blur.
You want to offer your visitors something special? Give them the opportunity to see your venue or building through different eyes? Or are you planning an exhibition and looking for an innovative implementation idea for a specific topic?
Then a VideoGuide can expand the spectrum and offer for your visitors!
A VideoGuide is a film that lets your visitors become active, that moves them and that remembers them. Equipped with a smartphone/tablet and headphones, users go on an interactive cinematic tour through your building. Guided by a speaker or actor, they move through the room and encounter historical figures, for example, who tell anecdotes from days gone by when they lived in these rooms. Perhaps visitors are standing in front of a work of art and can use the VideoGuide to observe its creation process at the same time. The unusual thing about it is that the place where the viewers are at the moment is the same place that they see in the video at that moment. But something else happens in the film, stories are told and content is conveyed. Supported by a surround sound adapted to the room, one's own perception expands, film mixes with reality.
The tour can be designed as a continuous film or have different stations. The visitor can be guided along a predetermined path or can decide what he wants to discover and when. There are also many thematic possibilities for implementation: historical themes that have a connection to the place of performance are particularly suitable for a VideoGuide. In principle, however, there are no limits to the choice of topics. We will be happy to work with you to develop a coherent concept for your idea and your space. Let us bring your content to life!
Pilot projekt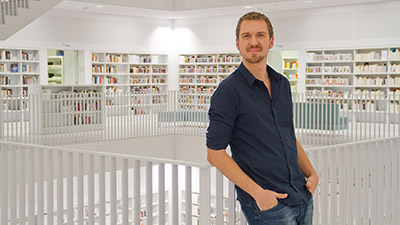 The first idea for our VideoGuide was developed as part of a diploma project at the Filmakademie Baden-Württemberg. Contrary to the usual cinematic approach, this time it wasn't the subject but the cinematic form that we first decided on: we wanted to make a video guide.
But where? After a few forays through Stuttgart, our interest fell on the new Stuttgart City Library. It has a striking architecture that encourages you to read and linger in an angled and cozy way, while at the same time being open and imposing. It is lively and yet quiet and a place open to the public for all citizens. That was very important for us, because we wanted to make the VideoGuide and the experience of new knowledge transfer accessible to as wide an audience as possible. Luck was on our side, because the city library was also interested in taking this new path with us. Since June 2014 you can experience the VideoGuide WORTE UND TATEN in the Stadtbibliothek.
Trailer and more info: www.videoguide.calimedia.de (in German).
What is it about?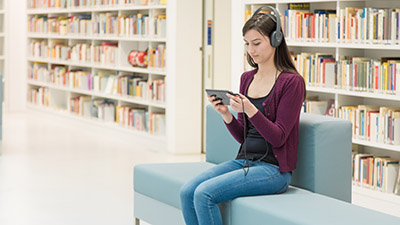 We invite the visitors of the library on a video tour matching the topic of the Literatursommer 2014 in Baden-Württemberg: WORTE UND TATEN (words and deeds). Can words become deeds? What would that mean? And what stories does Baden-Württemberg have to tell? Our presenter Fred Hilke takes visitors from the 8th floor down to the so-called heart of the library and tells witty, unknown and remarkable literary stories from the Ländle - from Schiller to the present day. He takes the visitors on a literary quest: Did Schiller's words really create deeds? And what does the RAF have to do with this topic? Have words ever changed you? The visitors are actually in the library and yet at the same time on a journey through literary history and through time.
The VideoGuide in the City Library is a continuous 30-minute film that we use various implementation options: In some scenes there are actors suddenly appearing between the shelves. There is a belly dance group that adds oriental flair to the library and film excursions, for example to a dark prison dungeon or a medieval knight's castle. Each of the five stories is told in a slightly different way - always adapted to the theme and the architectural conditions of the floor in which we find ourselves. Our presenter Fred Hilke holds the red thread of the film together and guides the visitors authentically and sympathetically through the building.
Concept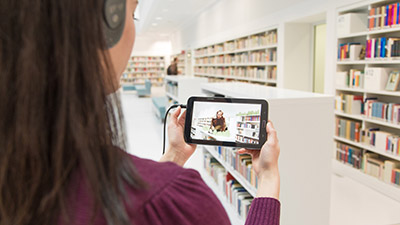 How can we convey knowledge sustainably today and in the future? How can we use new technical possibilities to make content experienceable and to prepare it innovatively, visually interesting and experience-oriented for the consumer?
These are questions that interest and drive us as filmmakers. That's why the idea of a VideoGuide inspired us right from the start. We wanted to try something new and create a film that you not only watch, but also experience. It includes the location of the performance and at the same time entertains and informs. While the visitors watch a VideoGuide, they actively explore a place and can experience it with all their senses. Through the interaction of film and reality, we can open up new perspectives and tell stories in a multi-layered, exciting and above all memorable way.
The experience of the spectator is clearly in the foreground for us. The technology must be so easy to use that visitors, no matter how old or media-affine, have the opportunity to discover the VideoGuide for themselves. This was a great challenge for us, because on the one hand a VideoGuide opens up many possibilities for implementation in terms of content and technology, on the other hand there are hardly any templates and reference films.
What information does the viewer need in the picture to be able to orient himself? How does the sound have to be mixed to create an optimal surround sound? How do we have to set up the camera to give the visitor the illusion that he or she is filming with a tablet or mobile phone? From the script design to the technical implementation to the final presentation form, we tried, considered and researched a lot for our film academy project WORTE UND TATEN in the city library. After all, we focused on the interaction of film and space and explored possibilities in this respect. Building on our previous knowledge and experience, other forms of interaction with visitors are also conceivable for future VideoGuide projects. For example, there could be different film stations at different locations that give the viewer the opportunity to make decisions: Which direction would they like to take? Which topic to discover? Which sequence to choose?
Your VideoGuide
The concept of the VideoGuide is flexibly adaptable to location and topics. With a VideoGuide, for example, every visitor to a gallery would have the opportunity to watch an artist at work on site. Or one could bring old buildings in open-air museums back to life every day. Visitors can immerse themselves in the past and re-experience original locations. Or they get the opportunity to see a familiar place from a different perspective. The extraordinary thing about this type of film is that it only works in a site-specific way. In this way, history, entertainment and knowledge can be made comprehensible in a holistic and new way at a certain location. We have started a pilot project with our VideoGuide in the city library and would like to set impulses. Especially in the field of education and media pedagogy there are many possibilities for the meaningful application of this concept.
We have invested a lot of enthusiasm, ideas and time in the VideoGuide WORTE UND TATEN as a team. During the creation process we tried a lot, from the script to the sound post production, discarded things and tried new things. We would like to use this knowledge from collected experiences and the feedback of the visitors to make it possible for you to experience content with a VideoGuide. As graduates and students of the Filmakademie Baden-Württemberg we can fall back on a large network of committed and competent filmmakers from all areas of film and media production. There are also no limits in terms of content - we can individually cater to your institution and your topic requirements.
Please contact us if a VideoGuide for your institution, your museum or your location can expand the spectrum and offer for your visitors. Together we will find a concept that is tailored to your needs. We look forward to it!