100 years Trauth - Chocolate treats from Herxheim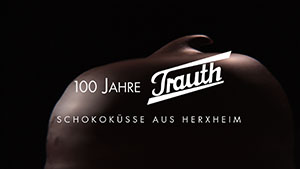 | | |
| --- | --- |
| Client | Eugen Trauth & Söhne |
| Genre | Dokumentation |
| Director | Christian Schega |
| Runtime | 29:00 Minutes |
| Language | Deutsch |
| Format | Canon 7D, 1080p |
| Year | 2011 |
| Country | Deutschland |
| Number | 035 |
"100 Years of Trauth" documents the history of the confectionery company Eugen Trauth & Söhne, founded in 1911. With numerous interviews in dialect, interspersed with pictures from production, sales and historical images, not only the history of the family business is told, but also a piece of contemporary history of the Southern Palatinate town of Herxheim. In this way, many regional peculiarities, charm and wit of the Southern Palatinate and its inhabitants are conveyed. But the focus is on a frothy, airy dessert with a chocolate coating: the chocolate marshmallow.
At the end of 2010, Rosa Tritschler asked me if I would like to make an image film for the chocolate factory "Eugen Trauth & Söhne". She had already been commissioned to make a theatre scene for the ceremony and to do a little research on the history of the company. Since I have always loved chocolate marshmallow (who hasn't...?), this was of course an offer I couldn't refuse. And so, as early as December 2010, I was standing in the factory, filming surrounded by thousands of chocolate marshmallows and the wonderful scent.
With Rosa Tritschler, I also recorded some interviews with former and current employees. As I sat editing the film, I realised more and more that the film was not an image film in the classical sense, but actually a documentary about the history of the company, but also a little contemporary history of the town of Herxheim. So my first real documentary came about rather by chance.
The documentary was originally only supposed to be shown at the anniversary celebration. After the celebration, the idea came up to make an exhibition in the museum of Herxheim, in which the film should also be shown. On 4 December 2011, the exhibition was ceremoniously opened in the packed Herxheim festival hall. In the months that followed, more visitors came to the exhibition in the museum than would otherwise not come to the museum all year round. So a complete success all along the line.
Since November 25, 2022, to mark the 111th anniversary, the full-length film has also been available on YouTube and Vimeo.